About Us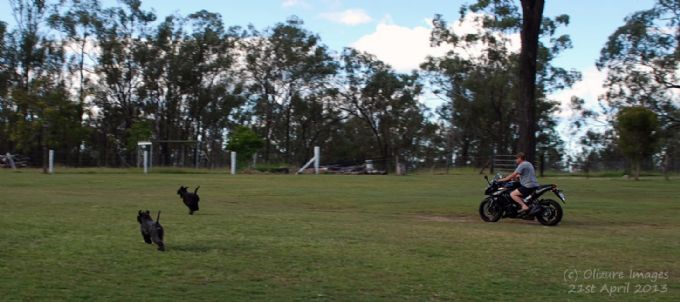 We are located about an hour west of Brisbane, on a beautiful 15 acre property set amongst the bush. Apart from our wonderful dogs, we also have our lovely Dorper Sheep (you must check them out on our website) - and of course a few chooks to round out the place. Oh, and I almost forgot our pantha – Puss – the black cat who is often mistaken as one of the kerrys as she is almost as big. She joined our home and now rules the Kerrys with an iron paw.
We have been involved with breeding and exhibiting Terriers for well over 25 years. Actually longer, as my parents (Foxadine & Foxcrag Kennels) started Breeding/Showing Fox Terriers (both Smooth & Wire) when I was only a toddler. So really, I have been involved with showing and breeding dogs all my life. My husband and I together started out with Smooth Fox Terriers under the Prefix of "Swiftfox". But we felt we needed a bit of the luck of the Irish, so we purchased our first Kerry Blue in 1992, Aust Ch Pharno Bluesky Mine "Boots".

We had always admired Kerrys from a distance, but after living with one, our admiration changed to love. Now our household will never be without them. Boots fell in love with our last old Smooth Fox Terrier girl (Ch Foxcrag Sutory "Tory") and they were never apart - [see them in their old age glory on our "pics from the past" Page]. When she passed on, he was never the same. He tried to fill her place in the home by doing things that she would do, but he never got over her. Our other Kerrys could not fill her spot in his heart. He passed away less than 12 months later.
When we finally decided to breed this fantastic breed, we felt that we needed a new prefix. Something that was uniquely Kerrys and uniquely us. So this is why the OLIZURE prefix was born in 2000. OLI from Oliphant and ZURE as in Azure (a shade of blue). Since this time, we have been devoted to Kerry Blues and what started out as owning one Kerry, has grown into a lifelong passion for the breed.
Our first import & the foundation of Olizure, Aust Gr Ch Blueprint Pure Blue (Imp NZ) "Austin", made the short journey from New Zealand in early 2000. Both his parents had been imported to NZ from Ireland and their pedigrees contained very sort after lines that we were very pleased to be able to add to our own. We campaigned "Austin" to his Grand Championship title and he was a multi Best In Show Winner as well as a 2003 & 2006 Queensland Dog of the Year Qualifier. He also blessed our kennel with 2 beautiful daughters, Teah "Aust Ch Olizure Celtic Charm" (from our "Charmed" Litter) & Ivy (from Sacrebleu Kennels WA). See more details of Austin's legacy on our "Foundation Page" - this is a tribute to our wonderful boy, Austin.
Even though we owned Kerrys before Austin, he is the main foundation and focus of our lines. He has passed onto his kids his wonderful strong hindquarters, lay of shoulder as well as beautiful flowing movement - and not to mention his love of people and life in general. He was healthy as an ox up until the day he passed and taken from us before his time. We see so much of Austin in his children and grandchildren and his cheeky personality still shines through in them all. Thank you Austin for the legacy that you have left us with.
Over the years that we have been involved with and bred this wonderful breed, we have made many lifelong friends. These include both fellow breeder/exhibitors – here and overseas – as well as many owners of puppies that we have bred and still keep in contact with. We have imported both Kerrys and semen in order to keep our genepool strong and are one of the very few breeders of Kerrys within Australia who health-test our Kerrys in order to continue to breed a Kerry who is not only award winning but healthy as well as a good representative of the breed.
We have been lucky to have won many outstanding awards with our Kerrys throughout Australia – Multi Best In Shows (All Breeds & Specialities), Group 1st & Group 2nds at Sydney Royal, Multiple Group 1st Brisbane & Toowoomba Royals as well as Winner & Runner up Qld Dog of the Year (All Breeds) 2008 & 2012 as well as Winner of Puppy of the Year 2016 – all these awards have been Owner/Breeder and many times as an Exhibitor/Groomer as well.
As our "Fur Kidz" Kerry family continues to grow, we realise why we love this great breed. They are just great fun to have around at home and become little showmen when they are in the ring. We are here for the long term, and our dream is to breed, groom, love and live with, Kerrys that are true to both temperament and type. We have a very focused breeding program in which we combine the best of both International and Australian Bloodlines and we only breed occasionally and all puppies are raised as part of our family - as that is what they are - our family.
Even if they leave us to go to their new homes, they are still a part of ours and are always welcomed back as such. Over the years, we have met and become very close to many of the families that have our Kerrys and we always look forward to getting pictures and updates on how their Olizure Kerry is going. We have a Closed Facebook Group that we encourage our owners & friends of our Kerrys to join as this keeps everyone up to date with the goings-on of our Kerrys and their families.
Contact Details
Barry & Pauline Oliphant
Lowood (1 hr west of Brisbane), QLD, Australia
Phone : 0419 023 950
Email :
[email protected]