Puppy News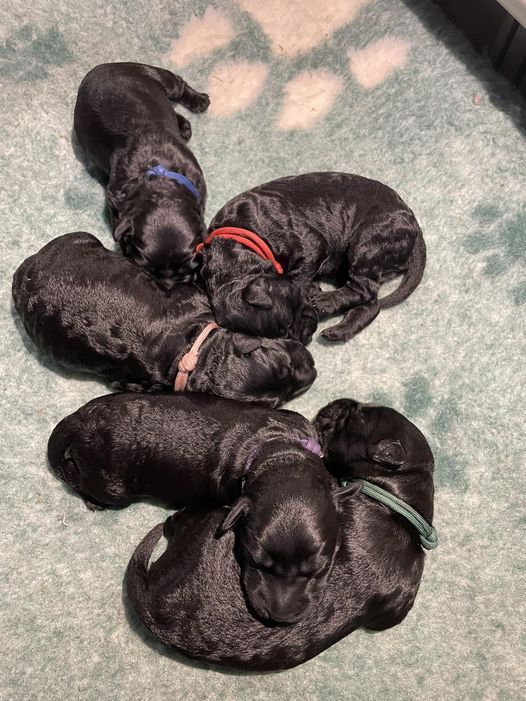 ** Litter planned February 2024 **
**Pregnancy to be confirmed end of December 2023 - WATCH THIS SPACE**
If you have contacted us and are still wishing to be on our waiting list, please reconfirm your interest. We can organise transport interstate for our puppies but we will not send them overseas - We DO NOT Export our puppies (NZ excepted).
~ Prospective Show potential puppies may be available from this litter ~
Pls contact us if you wish to know more about owning an Olizure Kerry Blue Terrier - either as a Companion/pet puppy or Prospective Show puppy - All homes will be carefully considered before being approved.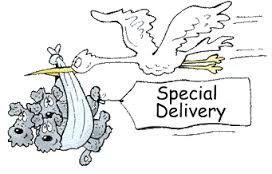 ~~~
Please feel free to contact us for more information if you are interested in adding one of our beautiful babies to your family home ~ either for show or companion.You can expect to pay between $2500 - $5000 for an 8 week old kerry puppy around Australia (our price is in about the middle of this range). Our puppies go to their new homes not before 8 weeks of age.

~ We have BRED & Owned Multi Best In Show & Multi Best in Speciality Show Winning Kerry Blue Terriers ~
~ But more importantly our Kerrys have won the hearts of many families around Australia ~

About Owning an Olizure Kerry Puppy and what this means for you...

Olizure Kerrys has a proven reputation of producing quality, healthy puppies for both show and home and we plan to continue this reputation into the future. We strive to breed the perfect Kerry & we import bloodlines in order to keep our gene pool strong and healthy.

Our Kerrys are selectively bred for health, temperament and exceptional quality, but most of all, wonderful family members that make their families proud. All of our Kerry puppies are born, raised & loved on our acreage west of Brisbane. We believe in lots of socialisation with our puppies and from their very first day, they are well handled & well socialised with people, our dogs & a variety of other farm animals. Our puppies spend their days playing in and around our family home getting used to the noises of modern life and being prepared for life with their new families. But most of all, they are loved beyond compare.

We offer ongoing support and advice throughout the puppy's life. We feel that all these things are very important and is a must, in order to give our puppies the best possible start to life as well as making sure their new home and family are well equipped with knowledge and support, in order to raise a great family member.

When you are seeking a puppy (either a Kerry or any breed) we suggest you Google "inherited diseases in name of breed here". Look for a Registered breeder who tests and provides certification for possible testing. Just saying 'full vet check' is not enough. One of our early Kerrys had many of the problems that can be seen in Kerrys, from dry eye through to many forms of cysts & spiculosis. He showed us why we would never want to breed a Kerry with these problems, as he was always on some sort of medication or having operations to remove infected lumps & cysts. This boy was never included in our breeding program – for obvious reasons.
~~~~
*~*
We sometimes (but not often) have mature dogs available to perfect homes only
*~*
Our Mature dogs are only placed with people who are willing to stay in touch with us and keep us updated with all their antics throughout their lives. This is because we truly love our older Kerry Kids and want to make sure that they are in a loving home that is right for them.
~ Feel free to contact us if you think a mature dog would suit your circumstances better ~
~~~~
All our Kerrys at Olizure have been not only Vet Checked; but we also ensure all our Kerrys have been tested for Canine Multiple System Degeneration (CMSD, also known as PNA), von Willebrand's Disease (vWD I

),

Canine Degenerative Myelopathy

(

DM) & FactorXI (FXI) prior to breeding.
Also ensure that you sight all health certificates for the parents and confirm that all the required testing has been done.

Feel free to contact us if you would like further information with regards to our Kerrys or our next exciting planned litter, as well as to the suitability of the breed for you and your family.


~ ~ ~ ~
What we ask of our prospective Puppy owners…
We are happy to assist new and current Kerry enthusiasts, whether that is showing/ breeding or a loving family pet, to begin or continue in this great breed. We are keenly interested in the quality of this wonderful breed and therefore, each litter that we have planed has been well researched and we have dedicated many hours in the planning & up bringing of all our puppies. In return, we try to make sure that our puppy's new owners are also the best possible family for them as well as making sure their family is also well prepared for the responsibility of owning one of our furkids.
We sell pet Kerrys only on limited register (explained below*), with an agreement to spay/neuter. We sell show potential puppies only on a co-ownership basis, subject to them finishing their Conformation Championship title. At that time, ownership is granted in full.
All our puppies are sold with a contract that states (amongst other things) that the puppy will not be exported overseas*, be loved unconditionally and if circumstances changed, we are to be advised immediately. This contract outlines your rights and responsibilities as an owner and helps us to find the right forever home for our Kerry kids.
These policies are intended to discourage breeding for reasons other than improving the breed and providing approved life long homes for our puppies. We do not believe that we are the only ones able to breed this wonderful breed, but we do believe that it takes a special person, with a true commitment as well as a mentor in order to breed the best Kerrys possible. And anything less, is just not meant to happen.

We are always available to help answer that question that you may have or give advice if needed for the life of your puppy. We also insist that if you are no longer able to keep your Kerry bred by us, for any reason, please let us know. This way, we can ensure our Kerry kids are always in loving homes.

*Limited Register explained...
Our Kerrys are purebred, pedigreed and registered with Dogs QLD & the Australian National Kennel Council (ANKC). This is a fact that you should be very proud of and eager to share with others. Dogs, which are registered as Limited Register, are eligible to participate in Obedience Trials, Agility Trials, Field Trials, Endurance Tests,Earth Dog Tests or Tracking Trials, including Sweepstakes associated with such events, but are not eligible to enter a Conformation Show, or be used in Breeding.
*Not for Export..Why?
Not for Export means that we do not allow our Kerry puppies to be exported to another country without our prior written consent, for the life of the puppy. You may be unaware, but there are unscrupulous people (puppy agents) out there trying to buy our beautiful Australian-bred healthy puppies, and then sending them all over the world to sit in Pet Shops or worse & this is a life that we never intended for our puppies to have. Puppy agents use many different deceitful tactics in order to get what they want. We have found that by enforcing the above stipulations, we greatly reduce the risk of this happening to one of our puppies.
** We do not deal with unscrupulous people and we try to ensure that they never get their hands on our beautiful Kerry puppies. **
Contact Details
Barry & Pauline Oliphant
Lowood (1 hr west of Brisbane), QLD, Australia
Phone : 0419 023 950
Email :
[email protected]